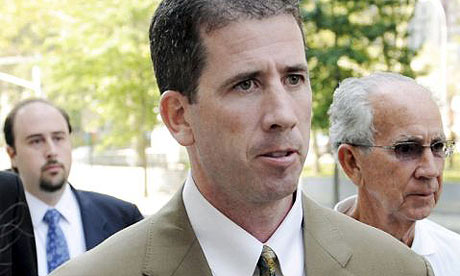 You've got to love Steve Bulpett of the Boston Herald for
his article today about Rasheed Wallace
. Just when the league thought it could get away without shining any more publicity on the Tim Donaghy scandal, Bulpett shined a light on their willingness to do whatever they can to let the scandal slide away:
When Rasheed Wallace said three weeks ago that the NBA was headed for a crash to rival the college basketball betting scandal of the 1950s, it seemed fairly certain the league's lords of discipline would be hitting him with another fine.

But there was silence from the big offices, and now it appears that was quite by plan. According to sources, the NBA did contact the Celtics about comments from Wallace and Ray Allen regarding allegations by convicted former referee Tim Donaghy, but it preferred to lend no further publicity to the matter.

I really love bringing publicity to the fact that the NBA didn't want publicity, thereby generating the publicity they never wanted... or something like that.
I hope every NBA blog in the world links to
Bulpett's article
. Putting as much publicity as possible on the Donaghy scandal is a good thing, so that the NBA will be forced to take protective measurements to ensure that nothing like that ever happens again.
Could I possibly have said publicity any more times within this post? Yup. Publicity.