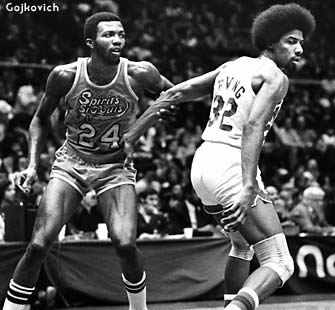 Marvin "Bad News" Barnes played only 38 games for the Celts, during the 1978-1979 season, but he apparently made
the best
of his time in the Green and White. Barnes admitted to snorting cocaine while playing in Boston. Not just while he was playing, but
during a game
.
Via
NBA Fanhouse
:
It got so bad for Barnes he was snorting cocaine at the arena on game nights. He said he even did it once on the Celtics' bench.

"When I was playing in the NBA, I would do it at halftime,'' Barnes said. "(Only one) time it was done on the bench. I had a towel over my head and (Celtics guard) Don Chaney and other guys kept looking away as I snorted."

Wow. Maybe now we know why Tony Allen can be so erratic during games. Seriously, though, snorting cocaine on the bench of an NBA game is some wild stuff. Can you believe actually doing that, sitting on the end of the bench snorting coke? I wonder what must have been going through Don Chaney's head while it was happening:
"We scored a bucket, yes! Oh, there's Marvin, hiding underneath a towel. Wait, why is he hiding underneath a towel? What is that white substance he's inhaling? I think I'll just turn back to the game now... Go team!"
But Barnes' story doesn't stop there. He also says the NBA was his second job at the time; drug trafficking was the job netting him the most money:
"I was making 40 to 50 grand a week with the drugs,'' said Barnes, who is working on a book with New England writer Mike Carey and offered some details on his life. "I was making so much money (in the selling of marijuana) it was hard to stay focused (on basketball).''

Barnes said he served as an investor with drug kingpin Paul Edward Hindelang Jr., who would later cooperate with the government and forfeit $50 million in drug-trafficking proceeds. Barnes said Hindelang's right-hand man was Roosevelt Becton, a friend of the basketball player whom he describes as the "godfather'' who "ran St. Louis.''

"Hindelang was the guy who started the 'mother ship,' which would park five miles away and boats would shoot for the (Colombia) shore,'' Barnes said. "He got a two-ton freighter a bunch of us (contributed for financially). Then it would go down and buy two tons of Colombian marijuana.

"It was the best marijuana. We bought it from the Colombian government for a dollar a pound ... I was investing money (in the operation)."

If you're an NBA player selling weed, you don't want to sell anything but the absolute best product on the market.
Despite selling such terrific pot, Barnes' lifestyle caught up to him, eventually leading to his dismissal from the Celtics:
"One day I was playing for the Boston Celtics, and there's a knock on my door and it's the IRS and FBI and Treasury Department,'' said Barnes, who played with the Celtics in 1978-79. "They ask me to sit down and asked me questions. Of course, I lied and said I didn't remember. They opened up this briefcase and this guy who looked like Clark Kent and had glasses pulled out a big thick book. He had phone conversations, hotel receipts and he proceeded to show where I had lied.''

With Barnes saying authorities wanted him to testify against Becton, he said he "disappeared" from the Celtics. He was waived by Boston on Feb. 7, 1979 but returned to the NBA with the San Diego Clippers the following season for a 20-game stint.

Barnes, who was one of the most talented basketball players in the world at the time, wasted all the athletic ability in the world because he fell in love with a lifestyle that was counter-productive to his ABA and NBA career.
It's sad, really, that Barnes never panned out as a basketball player, but he said he was making "40 to 50 grand a week with the drugs." I'd say that's a pretty damn good consolation prize for being such a bust.
Barnes also talks
of carrying two pistols into the locker room before games, numerous stints in jail, and calling a plane "a time machine" because a time-zone change was going to have the plane land at 7:56 p.m after leaving at 8:00 p.m. If you have 15 minutes to read the story, you should. And, if you don't have 15 minutes, make 15 minutes. It's truly fascinating.